Dr. Balwan Singh Mandal
Director of Extension Education
Mailing Address
At its inception, Chaudhary Charan Singh Haryana Agricultural University, Hisar "conceived and implemented a unique system of extension education for the transfer of its technology to the farming community". "This set up has been highly commended by the Indian Council of Agricultural Research (ICAR) Review Committee (1978) under the chairmanship of late Dr. M.S. Randhawa" and was admired at the national level. The Directorate of Extension Education acts as a bridge between the researchers and the farming community and the other beneficiaries to provide feedback. Therefore, the role of Directorate of Extension Education is in two ways i.e., transfer of technologies from scientists to the farming community through field functionaries and to find out the troubles of the field to be passed on to various research departments for finding their solutions.
ORGANIZATIONAL STRUCTURE OF DIRECTORATE
The Directorate of Extension Education is works under the supervision of Director, who is assisted by Associate Director (Farm Advisory Services); Associate Director (SNIATTE); Manager (ATIC); Associate Director (Publications); Joint Director (Farm Information and Communication Services); Regional Director (EEI, Nilokheri, Karnal) and Senior Coordinator/Coordinator (Krishi Vigyan Kendras). The decisions regarding policies and future plan related to extension programmes are taken by the Extension Education Advisory Committee which is a statutory body
The Directorate has a statutory role to play with regard to extension. Extension service is a vehicle, which carries scientific agricultural technology interventions developed of the Research Stations/ Departments to the farm for the overall benefit of the farming community. This noble activity facilities in bridging the identified technological gaps existing with the farmers. The ultimate goal of this important function of the university is to enhance the sustainable net income of the farmer by taking all the enterprises on the farm into consideration, integrating them and treating the whole farm as one unit.
This major function of extension is accomplished through dissemination of farm information, training of farmers and extension functionaries, educating the farmers through field activities such as demonstrations, field visits, field days and farm advisory services etc.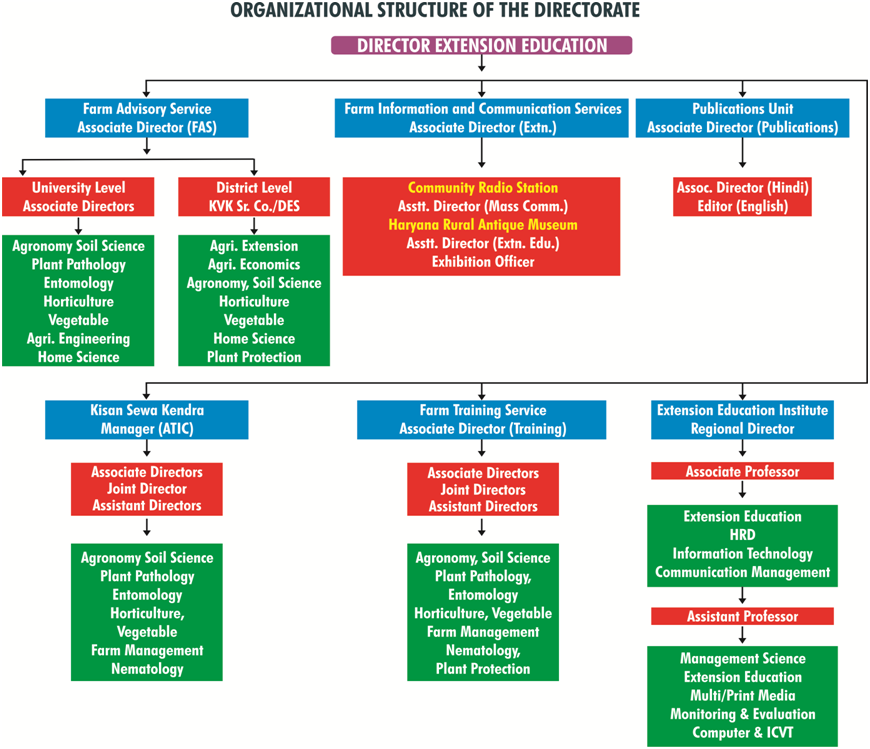 Last Updated :-Thu, Jul 06 2023
Awards and Recognitions
Dr. I. S. Sheoran was awarded Hari Om Ashram award for team research, Rafi Ahmed Kidwai award and NAAS Fellow : -